Even though pornography is older than Christianity, it never seizes to scandalize us. Believe it or not, there are still some misconceptions and plenty of taboos about this exotic genre.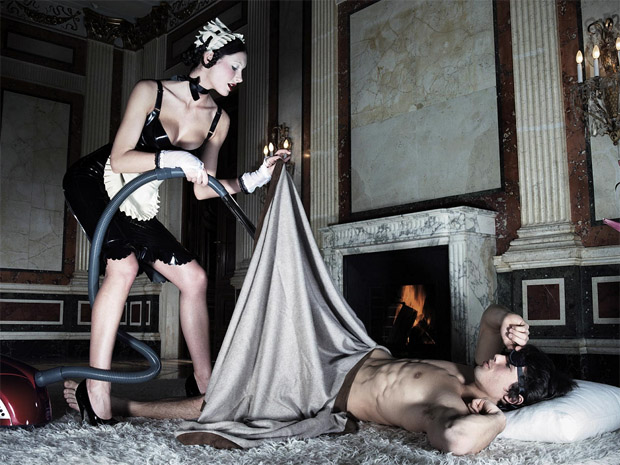 That is why I decided to answer some of the most frequent questions that I have been asked by friends, patients and readers of my blog. 
Is it normal to watch porn?
Definitely YES! Ever since our early childhood, people find scenes with erotic content truly fascinating. On one hand, there is the curiosity about one's own anatomy and the private parts of the opposite sex, on the other hand watching other people and being observed by the others is a great souse of pleasure. It creates an intimate relationship with the object of adoration and increases the desire.
Pornographic and erotic movies, stories and pictures satisfy by a certain level these (completely natural) desires.
Is pornography only for men?
No! There is porn for every gender, sexual orientation and taste.
My partner watches porn. Does it mean that he/she is not attracted to me anymore?
No! Everybody has fantasies. Going against them all the time is not healthy.
Is it normal to watch porn together with my partner?
Absolutely, if you are both in a mood, go for it!
How often is too often? Can I get addicted?
I don't think that there is a limit, but compulsive "consumption" of pornography is an addiction like any other (although it is very rare). Watching porn shouldn't interfere with your professional and personal life though.
If I enjoy the homosexual scenes, does it mean that I am gay?
Let's not jump into conclusions. Maybe you are just bi-curious, maybe you enjoy it as a scene or fantasy, but it is not for you in the real world, maybe you can get motivated to try and then you will probably know for sure.
Most women (with diverse sexual orientation) even prefer lesbian scenes because they seem tenderer.
Men are also often curious what gay sex is like.
The truth is that many heterosexual men enjoy anal stimulation and they would try it with another person or masturbating. My advice is to use your finger or a sex toy, not some random object that you can find in the house.
What if I like it so much that I never go back to the heterosexual intercourse?
This means that you have made an important realization about your sexual preferences. This is good.
Can I watch porn without masturbating?
Yes, and you can also masturbate without watching porn.
Is there a pornography that I am not supposed to watch?
You shouldn't watch videos and photos released without the consent of the people who are in them. In the mainstream websites the content must be safe.
What if I get aroused by watching illegal scenes? I am afraid and disgusted of my desires!
Just consult this with a specialist (psychologist or sexologist).
There are many people in the same situation as yours and there is nothing to be ashamed of. Nobody can judge you for your desires, as long as you don't act on them.
I get really excited when I watch porn with "school girls". Does it mean that I am pedophile?
We should be more specific about those "school girls". Pedophiles are attracted to children without secondary sex characteristics. Actresses who interpret teenage girls in the legal pornography look young but they are on legal age. Sex with a teenage girl is a very common fantasy and that is why it is often interpreted in porn. As long as you see the difference between fantasizing about it and actually doing it (or looking for illegal porn with actual teenagers) you are fine.
What if I get aroused by "rape scenes"?
Also a very common fantasy both for men and women. As long as you distinguish the movie from the real action, you can watch whatever you want provided that it is legally shot and distributed.
Remember that even though such fantasy exists it doesn't mean that the real action is ever enjoyable. People who have doubts should seek help, but then again, no one will judge you for something you haven't done.
What about sado-masochism?
Same thing! Consent is crucial.
What if we decide to watch porn together, whose fantasies should we do first?
The rule "ladies first" doesn't count here. You sold see and do things that you both enjoy.
What are your questions about porn?
Want to chat about this article? Leave a comment in the social media or send me an email with your thoughts and don't forget to like us on Facebook.
Do you need professional help?